---
ROCKY HORROR - AUSTRALIA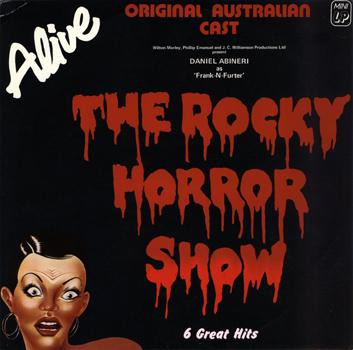 Last Revised: 15 July 2012
Entry from Wikipedia, the free encyclopedia.
===Australian productions===

The original Australian production of ''The Rocky Horror Show'' premiered in Sydney on 15 April 1974 at the New Arts Cinema, [[Glebe, New South Wales|Glebe]]. The production included staff and cast members who had worked on both ''[[Hair (musical)|Hair]]'' and ''[[Jesus Christ Superstar]]'', including [[Reg Livermore]] as Frank N. Furter, director [[Jim Sharman]], designer Brian Thomson and producer-promoter [[Harry M. Miller]]. [[Kate Fitzpatrick]] starred as Usherette/Magenta, David Cameron as Eddie, and [[Graham Matters]] as Rocky. John Paramor and [[Jane Harders]] starred as Brad and Janet.

After eighteen months in Sydney, the show moved to Melbourne, where it opened at the Regent Palace Theatre (in the suburb of Fitzroy) in October 1975. It ran for another eighteen months, finally closing in May 1977. The show then transferred to Adelaide in South Australia, where it opened on 12 August 1977, directed by Roland Roccecelli. The Adelaide production was not as successful as the two previous ones, and closed after only two months.
Australia's first regional production was mounted less than a year later by the [[Riverina Theatre Company|Riverina Trucking Company]], a theatre company based in [[Wagga Wagga, New South Wales|Wagga Wagga]] in New South Wales. Opened on 5 August 1978, this production ran for a limited season of three weeks.
Towards the end of 1981, a new Australian production of ''The Rocky Horror Show'' was planned, with the involvement of the show's original designer, Brian Thomson. Produced by Wilton Morely and directed by the Japanese-Canadian choreographer/director [[David Toguri]], the revival opened in Sydney on 6 October 1981. The production (which spawned a 'miniature' cast LP of four songs) transferred to Melbourne in January 1982 with most of the same cast.

Wilton Morley revived the show in 1984 to celebrate the tenth anniversary of the original Australian production, and cast the show's original Frank N. Furter, Reg Livermore (then forty-five years old) in the same role. In 1985, the revival opened in Adelaide, where the original show had flopped back in 1977. Morley's production was re-launched yet again in 1986, with Daniel Abineri both as director and in the lead role of Frank N. Furter. This time the tour commenced in New Zealand. For a brief stint, former New Zealand Prime Minister [[Robert Muldoon]] appeared as the Narrator. The production then toured Australia for several years.


Antoinette Byron
In 1992, a new production was launched by producer Paul Dainty (in conjunction with a local radio station) under the title ''The New Rocky Horror Show''. Directed and designed by Nigel Triffit, this production premiered in Melbourne on 2 July 1992. The cast consisted of local television actors and comedians.

With a million-dollar stage set and a cast full of celebrities, this, like previous productions, continued on tour for several years. During 1996 and 1997, the production toured Adelaide and Hong Kong, with a cast that included former [[Boom Crash Opera]] lead singer Dale Ryder as Frank N. Furter and comedian [[George Kapiniaris]] as Riff-Raff.
In 1998, Paul Dainty launched another production of ''The New Rocky Horror Show'' to mark to twenty-fifth anniversary of the original London production. This opened at the Star City Casino in Sydney on 29 July 1998. Several members of the 1992 cast reprised their roles, including Glenn Butcher as Brad, Peter Rowsthorn as Riff Raff, Wilbur Wilde as Eddie/Doctor Scott, and Red Symons as the Narrator. Frank N. Furter was played by comedian [[Tim Ferguson]], with [[Tottie Goldsmith]] as Janet and ex-Gladiator Ron Reeve as Rocky. During the run, MOR crooner [[Kamahl]] appeared as a guest narrator, and New Zealand-born actor [[Jay Laga'aia]] as a guest Eddie/Doctor Scott.

In November 2004, a special charity performance of ''The Rocky Horror Show'' was performed at the Regent Theatre in Melbourne, with a cast made up almost entirely of members of the popular television soap ''[[Neighbours]]''. In a world first, the role of Frank N. Furter was performed by a woman - in this case, [[Maria Mercedes (actor)|Maria Mercedes]], who was then playing Lucia Cammeniti in ''Neighbours''. A musical theatre veteran, Mercedes previously has appeared in the Adelaide production of ''The Rocky Horror Show'' back in 1985.

''"Richard O'Brien's Rocky Horror Show"'' premiered at [[Sydney|Sydney's]] [[Star City Casino]] in the brand-new Star Theatre on 12 February 2008. Ironically, the show opened a week after the long-running [[audience participation]] screenings of ''[[The Rocky Horror Picture Show]]'' was closed down by Sydney's George Street Cinemas due to poor audience numbers. The production moved on to Melbourne's Comedy Theatre, where it opened on 18 September 2008. A national tour of this production, taking in Brisbane, Adelaide and Perth, was promoted, but did not eventuate.


---
YOUTUBE :-
| | |
| --- | --- |
| | With Alyssa-Jane Cook, Gina Riley, Craig McLachlan, Red Symons. |
| | |
| --- | --- |
| | featuring Russell Crowe as Eddie and Dr.Scott. |
---

Up to :- RetroRocket main index

WebMaster rj4oz-web at w@ yahoo.com.au
---
This is an AMATEUR fan site, operating under FAIR USE provisions.
It is not associated with any professional organisations
nor any of the licencees or holders of whatever rights.
All trademarks and copyright belong to their respective owners.
No attempt is made to supersede copyright, etc, etc.

---